H.A.D. HELP PAGE
Only basic Help information is provided here. If you need further assistance contact us by phone or email.
Overview
This site, in keeping with normal practice, is designed for a standard screen resolution(1024x768). The heading and menu areas of the screen have a fixed position and do not move; it is only the main contents window that can be scrolled. Text is set to your browser default size (usually Medium).
If you use the lower screen resolution (800 x 600) with a magnified view, you may not see all the contents. Use the scroll slider control at the bottom to view unseen parts, or use the 'Smaller' text feature.
Opening the Site
When you access the H.A.D. site the Home page is shown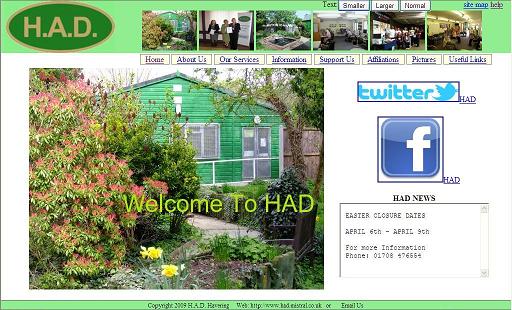 This contains a number of areas:
Header section
This covers the whole width of the screen with a green background, and identifies the HAD pages. It includes four components:

1. H.A.D. Logo
2. Pictures
3. Text Size
In order to use this function Scripting must be enabled. There are three buttons to alter the text size of the contents area of the screen.
Use 'Larger' to increase size, 'Smaller' to decrease size and 'Normal' to reset size to initial setting. It will work for most browsers which has 'javascript enabled'; this is the normal default setting.
If you wish to change the scripting setting ask for help. In WINDOWS systems it is buried in Tools/InternetOptions/Security; Using default settings will enable script.
If you still cannot change the text size, try the alternative options:
(a)Preferred choice is to lower screen resolution, although this changes the size for everything viewed. This can be done from the desktop screen; right click in open space followed by 'Settings' tab and move resolution slider control towards less for 800x600; then Apply. Use a similar procedure to reverse it and select 1024x768.
(b)Using browser control 'View', 'Text Size' and select an option; Largest, Large, Medium, Small, Smallest, may not work. There is no reset option.
(c)Hold down CNTRL key and use mouse scroll wheel in either direction until OK. There is no reset option. The main contents portion will be seen OK, but some areas of the screen will be repositioned and unavailable in very large text. It only has a limited usage.
(d)Internet Explorer only: Use Microsoft Magnify and enter 'Run' to messages. The screen will be split with magnified text above in a new window. Use the option which follows the mouse. This setup is particularly unfriendly and is NOT recommended.
4. Quick Links
Site Map option; an alternative menu list to all pages.
Help option that displayed this informatiom
Menu section

This is the means to jump to a topic. Click on an entry and where there are further options it will open up a new list for a secondary selection.
In order to use this function Scripting must be enabled (this is normal for Internet Explorer and Firefox). Keep the mouse pointer within the list to make selection otherwise it will close.
Footer
This is the area at the bottom of the screen in green. Like the header it is fixed and will not move. It contains basic contact information.

EmailUs
A link to contact HAD by e-mail. Click it to open your email page with addressee as 'had@mistral.co.uk.'. Create an email subject, add the details of your query in the content portion and finally send the mail to us. If you wish to cancel this request, just close the window without sending.
SEARCH
There is a site search feature but it is not directly available. Use the Site map option in the header to reveal the search link.
PRINTING
There is a printer friendly feature added to all pages which restricts printed output to essential information. You do not need to do anything special, just use File/Print in the usual way. If you have doubts about printed report use the File/Print preview feature first. Try it here.